This season, Consolidated Nurseries has added several new products to our Holiday lineup. We constantly aim to provide fresh items, new trends, and high-quality picks for customers. Right now, we are all trying to transform our homes to be "holiday-ready" and what better way to do that than through a display of plants! Whether it's a nostalgic Christmas Cactus or an elegant red or white Calla Lily, we have a plant for you. Here are some our favorite products from this season, all still in stores!
Christmas Kalanchoe
New this year is a Bicolor Kalanchoe in assorted shimmering pot covers. We loved the look of the two-tone flowers in contrast to our earthy colored pot covers, giving a warm, woodland holiday look. Kalanchoes are low maintenance, so as long as they have bright light and water from time to time, they will provide long lasting color well through the holiday season.
Red & White Calla Lilies
Another new product this year, is the classic Calla in a holiday theme. Our white Callas are in red foil pot covers and our deep red Callas are in green foil covers. For me, I see this as a great holiday gift for the plant lover in your life. They are beautifully elegant and can make a striking statement among your home décor.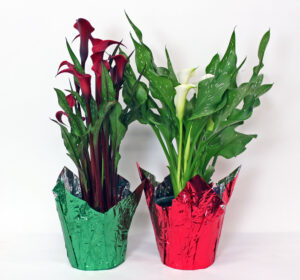 Gaultheria
Also called wintergreen, Gaultheria is a fun little plant we experimented with this year. Lush green leaves and clusters of red berries allow you to bring a little winter scenery into your home. When you're finished displaying it, these plants can be moved outside depending on your climate. Check our Care Instructions for more information.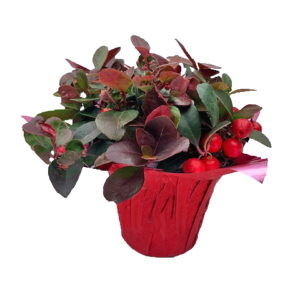 Zygo Cactus
A Holiday Classic, we have Zygos in many sizes, colors and styles. I personally like to buy a handful of our 4" size pots, but another very popular option is our Zygo Hanging Basket. These are perfect for saving space on your tables and shelves, while still displaying some dramatic flowers and foliage.
Amaryllis
Another classic, Amayllis are beautiful flowers that test our patience. Nestled in a wax bulb, we wait and wait for the flower and leaves to shoot out and bloom into a large, gorgeous clump of flowers. These make great gifts because they require very little care but are tremendously rewarding.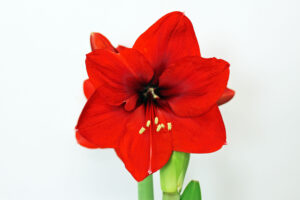 Ivy Wreath Topiary
Last is our Ivy Wreath Topiary: a hardy plant decorated for the season. It makes a great addition to the table, the mantle or really anywhere you can think of. Have some fun with it, and feel free to dress it up with your own ornaments or garland. Just be sure to keep it well watered!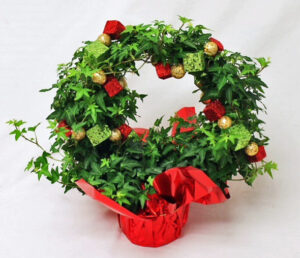 Whichever product you choose, Consolidated Nurseries wishes you a very happy holiday season, and we look forward to providing even more new and exciting options all through the New Year!
The Holiday Lineup: Consolidated Nurseries